The bathroom is coming along! Not a lot to show because there's a lot of busy work and scraping up tiles tiles and more tiles... But between yesterday and today, we got rid of the vanity and toilet, took out the rest of the floor tiles, laid the rest of the wonderboard subfloor, grouted the joints, primed with concrete primer, laid the new vinyl tiles beneath the tub area, and moved the tub back into the general vicinity (not hooked up yet).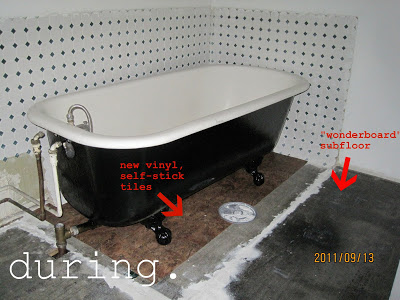 Tomorrow will be our "buying things" day, because we need to pick up the new "free-standing" kitchen counter with sink, faucet fixtures, take back some things to Lowes and Home Depot, and buy ceiling light fixtures for the kitchen and living room (I thought I got a good deal, 2 for $20, but I forgot that the living room light doesn't have a switch, just a pull, so we need to find new ones, one with a switch and one with a pull... possibly a ceiling fan with a light for the living room then??
I love "buying" days. I'm so excited for tomorrow.
Toodles.
J&H