what's your design style?
are you the type of person who wants to walk into ikea (or pottery barn, or west elm, or cb2, or....), pick a room and buy everything in it because it looks good and it's easy?
or, are you the type of person who can handle having blank walls until you find the
right
piece?
do you decorate in calm colors and prints? or go
w
i
l
d
with colors?
do you fall in love with trendy art or whatever is in the store? or do you seek out vintage shops and craft fairs for the quirky stuff with its own personality?
mr p and i like conversation pieces with personality.
which means when someone walks into our house, they will ask about the artwork on the walls, and we will tell a story.
instead of saying "oh, that? i just picked it up at bed bath and beyond, we needed something for above the television"....
i can say "well, we were out with our friends trying brooklyn's finest street food when we stumbled upon an art fair and couldn't resist them!"
the latter is the case for the majority of the art in our apartment. i have a few pieces that came from pier 1 or bed bath and beyond, but the pieces we truly enjoy the most are the ones with a story
(like
this one
,
this one
, and
this one
)
we found our our little monsters prints at
artists and fleas
(can't remember the artist, so sorry!!!)
in brooklyn after stuffing our faces with delicious food at
smorgasburg
one VERY sunny summer day. they patiently waited for their permanent home all summer while we searched for cheap 8.5x11 frame to put them in
(and even now the frames aren't perfect, they are a bit too small for the space, but they will work!)
but they have finally made their debut on our walls!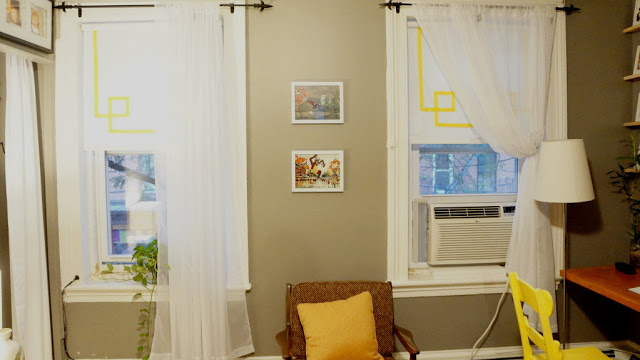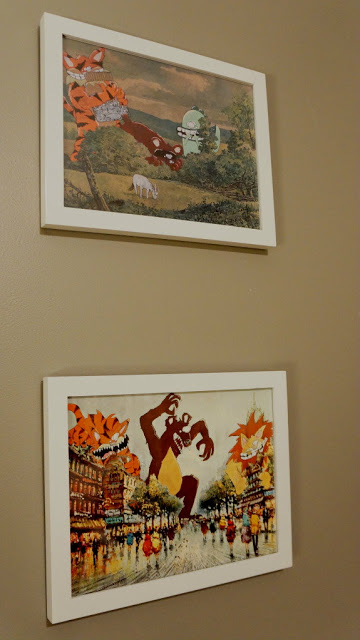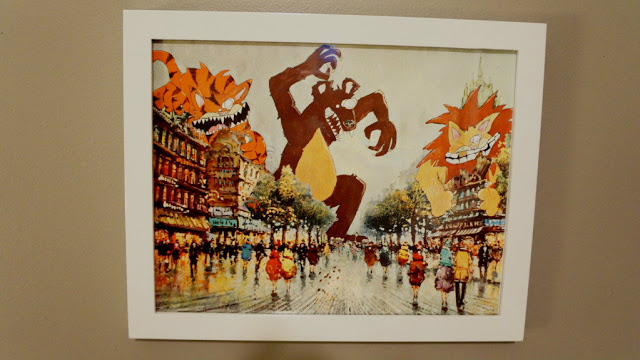 we like converstion pieces, and comical conversation pieces they are! monsters sketched into classy art pieces!?! now that's our kind of style!
now we just have to frame the best art piece yet... it just stinks that it has to be custom-framed since it's an odd shape. mr p surprised me one day with this poster, but we keep pushing off shelling out hundreds on getting it custom-framed... it's going to be so cool when we hang it up though... but you'll just have to wait to see it ;)
p.s. i'm SO glad the weather is starting to cool down and we will be able to take that ugly air conditioner out of the window soon! i can't STAND looking at it anymore! But... the reality is that we live in a 100+ year old brownstone that HASN'T been gutted, so central air is just not in the books.... i suppose it's ok though, it's only 1 of a handful of things we don't like about living where we do compared to the 432890432890 things we LOVE!