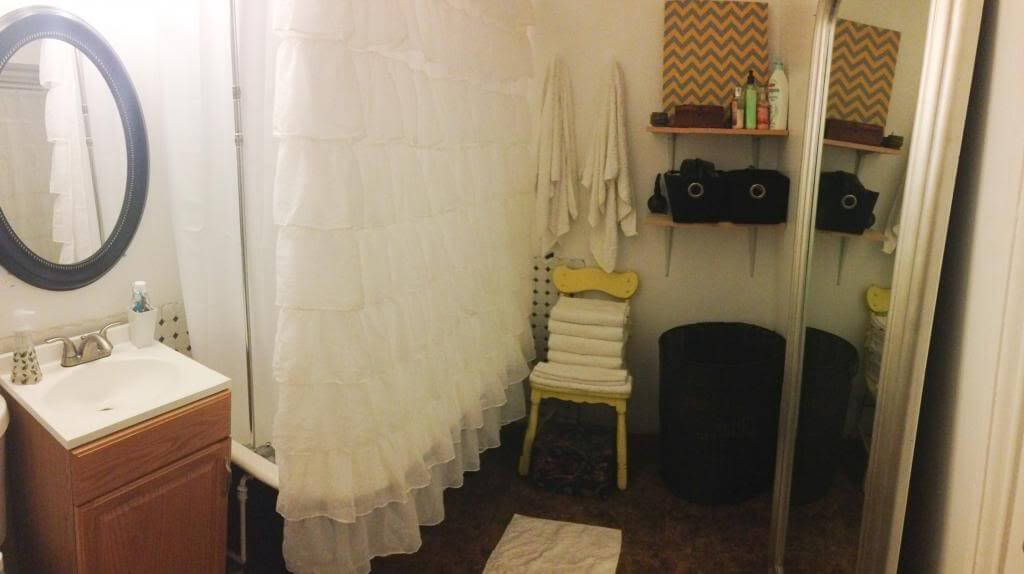 thanks to a string of impulse buys at target and a 5-minute fix from that seemingly handy man in my apartment...
i no longer hate my clawfoot tub.
you see, i was so excited for it when we first moved in. although it was a gross white color on the outside and it looked like it was painted in flat white wall paint to hide the rust, i had a vision, and we eventually made it "look" like the perfect clawfoot tub.
- we sanded it as much as we could
- we painted it with the appropriate black glossy appliance paint, making it look practically brand new
- we installed a d-shaped shower curtain rod that hung from the walls and the ceiling
- i even found a cute white outer curtain solid with ruffles that made it look so adorable
- and mr p and a friend installed a proper shower head so we didn't have to jimmy rig a hand-held one to the curtain rod anymore.
- see the bathroom progress
here
.
...but i still hated it.
i hated showering in it, i hated warning people before they went in that they had to watch their step, don't slip, put the magnets in the proper place so the plastic shower curtain liners don't stick to them on all sides while they're showering, and that they had to enter from the back, so don't step on all of the shampoos and soaps on the floor.
mr p and I went to target sunday to pick up 3 things: new plastic shower curtain liners, laundry detergent, and dryer sheets. $250 later, we came home with lots impulse-but-necessary things for the bedroom, the things on the list, and FABRIC shower curtain liners. FABRIC.
fabric apparently makes the difference between shower curtain liners that blow in and stick to your body, and ones that don't. they're also machine-washable, so we will never have to replace them again. they were also $11/each instead of $3/each
(we need 3 to get around the whole tub).
the extra $$ is totally worth it in my opinion though. they make our shower feel SO big compared to how it used to be because the curtains hang straight instead of blowing in and grossly sticking to my skin.
last night during the time that i washed dishes after dinner, mr p moved the part of the shower curtain that hangs on the ceiling from the center of the tub to the back of the tub. now that we have the proper shower head holding up "head" end, we could move the ceiling hanger to the "foot" end. now we can open the shower curtain along the entire long side of the tub
(aka, like a normal shower
).
after getting out of the shower last night from our newly-awesome clawfoot tub/shower situation, i proclaimed to mr p with excitement, I DON'T HATE OUR SHOWER ANYMORE!
in case you missed it, and in case you're thinking about getting a claw-foot tub
(to be also used as a shower)
or have one and hate it
(likely, if you live in a 100+ year old, barely updated brownstone like us),
the key components of possibly even loving your tub are:
1. if you must paint, paint with appliance paint
2. install a
d-shaped shower curtain rod and proper shower head
. you can buy it as a package for fairly cheap.
3. install the ceiling mount of the shower curtain rod to the "foot" end of the curtain. the shower head holds up the "head" end. now you can open up your shower curtain the full length of the tub.
4.
FABRIC shower curtain liners.
the curtains completely surround the tub, and plastic ones
grossly
blow in and stick to your body.
5. get a
no-slip shower mat
. clawfoot tubs are deep and
EXTRA
slippery. if you don't have one, you
WILL
slip, and you
WILL
regret it!
and that's how to make your clawfoot tub dreams come true!!
(otherwise, you'll be like us and live with a sub-par shower for 2.5 years before figuring out that we should have done it right in the beginning!)
cheers.
jenn