last year on this day
(ok, last year on 9/11)
, it was sunday, and mr p and i were busy
busy
bees.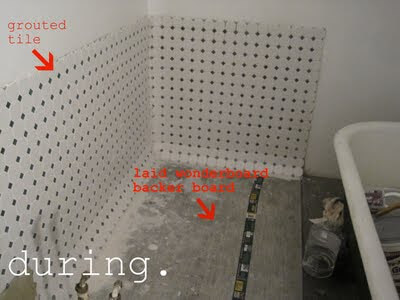 we had just started renovations on our "new" jersey city apartment. it was day 7 of renovations, and that day we:
- laid trim
- ripped up the bathroom tile floors
- laid new backerboard
- grouted the bathroom tile
- painted the tub with appliance paint
- bought a stove
- ripped out the bathroom vanity
i'm
SO
happy those days are over! small bits of renovating have continued to creep up now and again, but that first month of having keys to the new place was
BRUTAL!
(i guess our relationship can survive anything if we survived THAT!)
we actually did a
LOT
of renovations to our tiny apartment in our 100+ year old building. check out the beginning of the story
here
(or click
renovations
on the left side bar)
what's your story? did you do any fun renovating or decorating in your home? tell us about it!
cheers!