what do we do when we finally have some free time on a weekend where we DON'T travel to see friends and family?
...apparently celebrate by indulging in drinking.
and eating.
and drinking and eating some more.
that's all we've done for the past 5 days.
it felt like i was in college again.
but... in our defense, we haven't been able to see our friends that we actually DON'T have to travel to see in a LONG time... so, naturally, we celebrated.
wednesday,
as i mentioned here
, we attended a happy hour that benefited avon walk for breast cancer.
thursday we went to
mama's food shop
(featured on diners, drive-ins, and dives!! )
to celebrate the 30th birthday of mr p's friends from home
(one is an actor, and one is part of the fashion design duo of NAHM )
. the food was classic southern comfort food
(fried chicken, collard greens, meatloaf, etc)
and it was all SO good.
guy fieri was right
... the fried chicken can't get any better.
friday we met up with many friends in hoboken at
wicked wolf
, celebrating christina graduating with her masters in engineering!! ...and also celebrating just seeing our long lost friends.
saturday, mr p guilt-tripped me into going to kickboxing
(so much jumping with a pounding headache was NOT fun, but i made it through, and felt good about working out on a SATURDAY)
later we ventured into the upper west side, and eventually harlem with new friends from
wednesday night
.
(wait... you went to HARLEM ?? yes, friends. and it was SO nice! we definitely want to go back and explore sometime)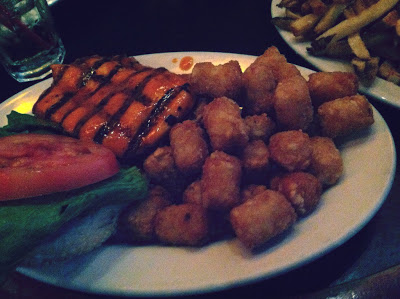 ("healthy" alternative to wings... just dunk a grilled chicken breast in buffalo sauce! and those tater tots... they were totally mcd's hash browns in bite-sized form... aka heaven)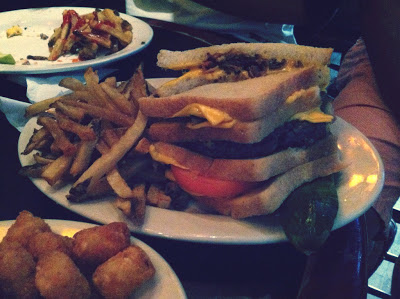 mr p's burger. each side of the "bun" was a grilled-cheese sammich. i have no words.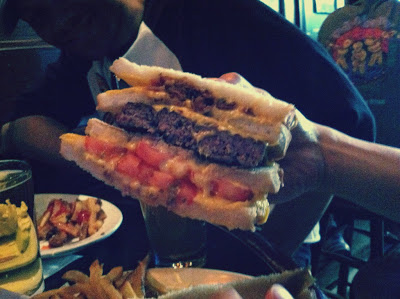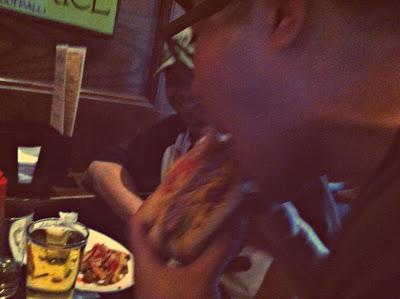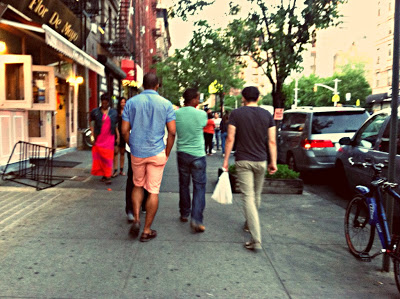 mr p with our new bff's.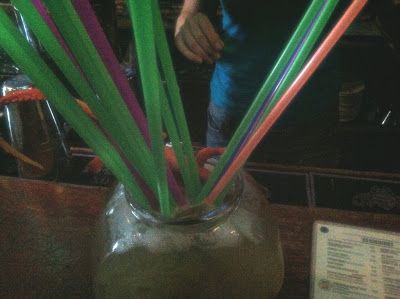 fish bowl. actually, it was just jolly ranchers in liquid form. or, at least that's what it tasted like.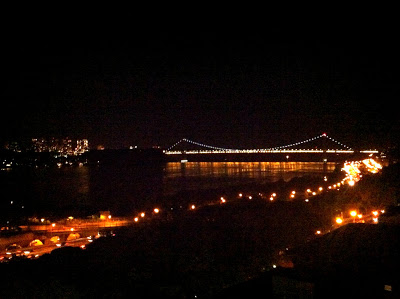 beautiful view of the george washington bridge on the rooftop terrace of our new bff's apartment building in harlem.
sunday, we, yet again, went to kickboxing. with only 10 people in the sunday morning class, we got our butts kicked. so much i thought mr p was going to pass out. sweat dripping from his face like a leaky faucet, weak punches, eyes closed... like a scene from a rocky movie or something
(except nobody was punching him in the face)
i

(somehow)

mustered up the energy to go to a

(free!)

brunch in the city at donatella, the restaurant of

food network's iron chef judge donatella arpaia

. unfortunately, it wasn't as good as i had hoped. my friend and i shared 2 plates, ricotta pancakes with rhubarb compote and eggs benedict. the pancakes were good, and the rhubarb compote was good, not too sweet, and still a bit tangy. however, the eggs benedict tasted like they had been sitting out for a while, with the egg yolks almost completely cooked. there was no yellow runny gooey goodness spilling out of them when you cut into them.

eggs benny

fail

.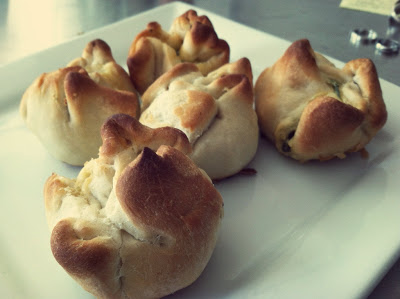 i found these hiding in the freezer (homemade from a few months ago), so i popped them in the oven for mr p before heading out to brunch with my friend.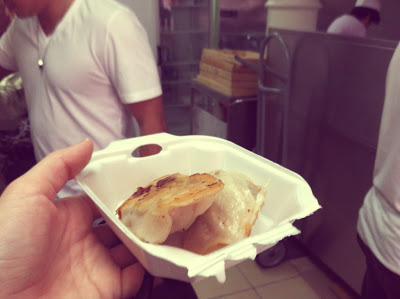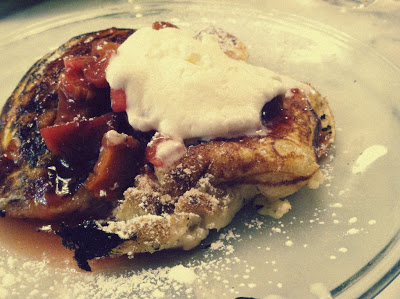 not the best presentation, but the ricotta pancakes were pretty good!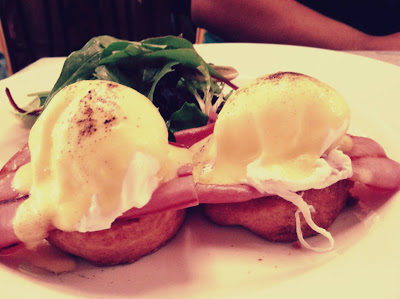 eggs benny. they LOOK perfect (probably because the eggs are HARD, instead of having runny goodness inside)
after walking around the flatiron neighborhood of manhattan for another few hours, we decided we had enough for the day, and came home. i relaxed outside for a while..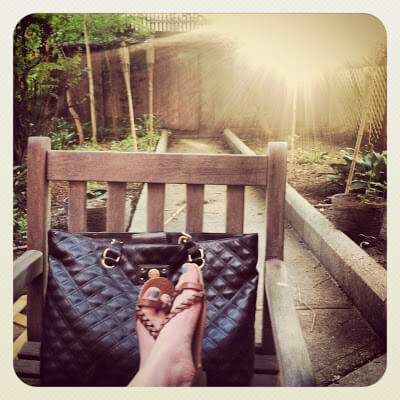 kicked up my feet...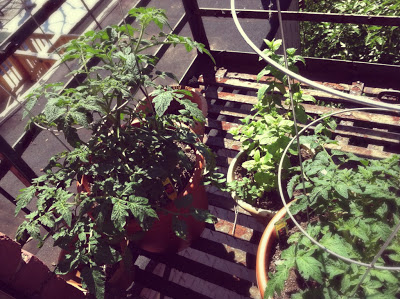 checked up in my tomato plants....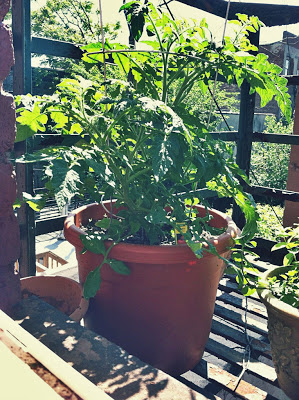 and mr p cooked up a storm, putting together these bad boys for dinner: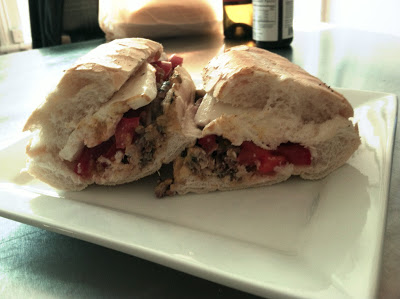 pan-fried sardine sammich for a late lunch (sounds HORRIBLE, but i've learned that sardines are actually REALLY tasty!)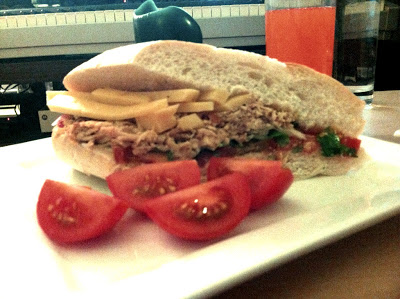 chicken sammich :D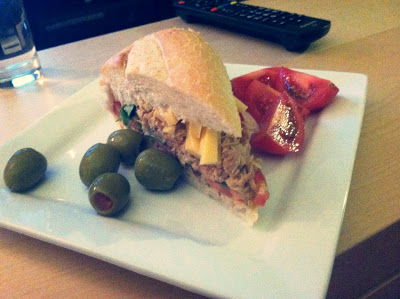 pulled chicken sammiches with homemade roasted garlic aioli, tomatoes, and cilantro.
he's the best.
now back to reality, but at least we have a
3-day weekend ahead!!
have a
fantastic
week!
toodles.